There is a huge number of men in the USA who dream about a Russian bride. And also there are a huge number of Russian women who dream of an American husband. The Elenas Models website brings all these people together and provides an opportunity to get to know each other. There are two versions of the site: in Russian for girls from Russia, Ukraine, Belarus, Kazakhstan and other Russian-speaking countries, and in English for men from the USA, Canada, Australia and the UK. So let's compare the advantages and disadvantages of this service.
First Impression
On the first page before registration the site immediately claims that it is the Most Trusted Russian Online Dating Service Site. This is a bold statement, but there is no information about why exactly the site considers itself Most Trusted. So, let it be. We can also see that the site has over 2 million registered users and over 140 thousand online users.
Here is a question: why is the site called Elenas Models? Is Elena just a popular name in Russia? In fact, this is the name of a leading online dating coach who has been in the dating industry for over 16 years. Nevertheless, the company was founded in Australia, not in Russia.
Homepage design could be better. Now it looks old-fashioned. Fortunately, the design and navigation of the site after registration looks better, but still not perfect.
Website design rating: 4 stars
Now let's take a closer look at Elenas Models and talk about the good and bad sides of the service.
The bad
The registration process takes a long time. It is needed to provide detailed information about yourself, starting with height and weight and ending with ethnicity and hair length. On the other hand, girls have to fill in this information as well, so you can find out more about your match. Then you have to confirm the email, and this also takes time. The good news is that registration via Facebook and Google is available.
Another disadvantage is the poor messaging functionality. This site does not allow you to send stickers and gifs, like many others websites do.
The good
A lot of users are registered here. Today it is more than 2 million accounts and more than 140 thousand active users, according to ElenasModels data. Many Russian girls want to meet a foreigner, so you have plenty to choose from.
Another advantage of the site is its multilingualism. You see the English version of the site, a girl sees the Russian site, and both of you can instantly translate your messages using the internal translator in direct messages. This is important because not all girls from Russia and Ukraine are good at English.
First Impression: 4,5 stars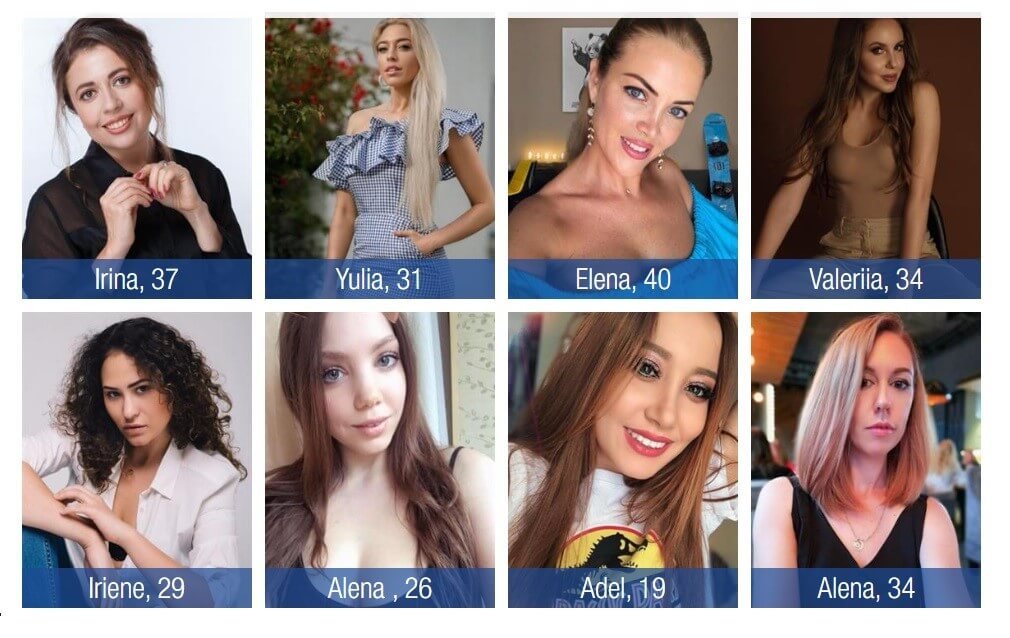 Membership types
The ratio of girls to men is approximately 1 to 5 (80% of men and 20% of women). It sounds bad, but most dating sites have similar statistics. New profiles appear every day, so competition is not a problem. Just be polite and open to new acquaintances and you will eventually find a beautiful Russian bride or Ukrainian bride.
Men and women have the option to buy a premium account to increase their chances of a successful dating. Let's see what are the limits for a free account and what additional features can be bought.
Price
This site is quite expensive compared to others due to its large audience. The free user has many restrictions:
You cannot write a girl if she does not agree to receive a message from you. So you must submit an Expression Of Interest (EOI).
The number of EOI requests for communication is limited
Not all photos of girls are available for viewing
Free opportunities are really low. If you are not ready to spend money on dating, it is better to look for another site.
The next step is Gold. It costs $19 per month and includes:
View all photos of girls
Unlimited Communication Requests (EOI)
The ability to communicate with 50 girls at the same time without limit
It's better than nothing, but the options are still limited. Fifty girls is not a lot, because some of them will seem boring to you, another part will stop visiting site and one more part will turn out to be fake. It is also possible to buy access to private messages for one particular girl. This costs $20, which is totally not profitable.
The Platinum Membership Plan costs $58.25 per month. Here's a list of features:
Unlimited EOI
Unlimited chatting with any number of girls at the same time.
The ability to communicate with girls via video chat
This is actually the optimal membership plan. All major features are unlocked here. It is up to you whether it is expensive or not.
There is one more plan — Ultimate. It costs $99.58 per month and includes all the same with Platinum, but also a video course about dating and some tips in PDF. Frankly speaking, this is completely useless. The only reason why Ultimate exists is to convince you that $58 for Platinum isn't that expensive.
Available payment methods: Visa, Mastercard, Maestro, American Express, JCB and Diners Club.
Prices: 3 stars
Registration process
You can register using email or via Facebook / Google account. Users from Russia can also register with the popular Russian social networks VK and Odnoklassniki. In any case it will take some time to fill out a profile and write an interesting description.
Then start browsing profiles. Use filters by age, ethnicity and country (Russia, Ukraine, Kazakhstan etc.). Depending on your membership plan, you can:
Send express of interest
Write a message in text chat
Propose a video chat
Send e-mail (if girl don't visit website any more)
Use Elenas Models dating site just to meet with somebody. Do small talk and then try to share your contacts on Facebook or WhatsApp as soon as possible. If girl likes you, she is going to agree.
Usability: 4,5 stars
The App
Visiting the site is inconvenient in many cases. Elenas Models dating site has an app for Android and iOS, but they are not available at the moment. The app in the AppStore has only 8 reviews and 1-star rating. The same on Google Play is currently unavailable. Meanwhile, just use the mobile online version of ElenasModels.Com.
Mobile App: 1 star
Website Safety
Many dating sites have such a problem as scam. ElenasModels is doing its best to protect it. The site claims to use its own "cutting edge anti-scam technology". Any system is unperfect anyway, so be aware. Do not share your contact information if you are not sure if the girl is real, do not share your nudes and don't follow suspicious links. That's all you need to know.
Safety: 4,5 stars
Additional features
Auto-translation in direct messages
Audio messages
Video chat
Auto-downloading girl contacts (for Platinum and Ultimate)
Customer support
Website provides a large amount of information that helps to understand the site: FAQ, About Us, How It Works and Helps Desk. If this is not enough and you still need help, you can send a message to 24/7 Support. Another possibility is to call technical support directly. There is Australian and American contact number, but the company asks to call only during Australian working hours (from 9:00 to 16:00 Australian Eastern Time).
Support: 3,8 stars
FAQ
Who owns Elenas Models?
The company was founded in 1999. The head office located in Broadbeach, Australia.
Can I use service anonymously?
On the one hand, you can supply fake information and refuse to upload your profile avatar. On the other hand, girls won't trust you in this case.
How can I sure profiles are real?
Just chat with the girl you like for some time and then ask her to give you her Facebook. Also beware of very beautiful girls with Platinum account.
How many members does elenasmodels.com have?
In 2020 there are more than 2 million registered accounts. The daily audience of active users is about 10-30 thousand people.
Is elenasmodels.com safe?
The site provides Elenas Models Scam Protection, but it is not perfect. Be careful anyway.
How to get membership to Elenas Models for free?
Registration is absolutely free for everyone. Pay only for additional features.
What does it mean when a profile on Elenas models is listed as invisible?
This means that a man or woman has hidden profile from the search. In this case, he or she will only communicate with a narrow circle of people.

Sum up
Main pros: Many registered users, good scam protection
Main cons: Expensive Membership Plans, no working apps for smartphone
Overall rating: 4 stars
Thanks for reading!